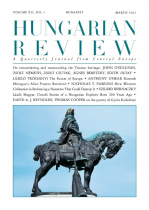 Subscription
Hungarian Review annual subscriptions for six issues, including postage (choose one):

It is a bold, perhaps foolhardy venture, to launch a new ship in stormy waters, but the Hungarian Review is just that – a craft on the mainstream of the Danube, seaworthy enough for the Atlantic, elegant enough for the Black Sea or the Baltic, and all the myriad land and water ways in between. And the timing, we believe, is perfect. Since the glory days of the early 1990s, our countries have somewhat slipped off the map. Public interest in the intellectual and political efforts which have gone into the rebuilding of a full half of Europe has waned. But as first Hungary then Poland prepare to take on the presidency of the European Union, 2011 will be a year, if ever there was one in this region, of opportunity.

We make no apologies for our name. This is a publication which is proud to be Hungarian, in a world all too prone to deride identity or patriotism as something old-fashioned, or hostile to others. In fact, the title comes from our affiliate Magyar Szemle, a journal that has entered its twentieth year of publication. Ours is an inclusive Hungarianness, in an interdependent age. Central and Eastern Europe need champions, and the Review will offer space in its pages for authors from this region and beyond. Our aim is both to reflect an ongoing debate on the future of Europe, and to help shape it.
***


"A new political-historical magazine just started here. It has had three issues. I told the young editor I thought it was excellent. 'Why?' he asked. I quoted George Mikes' reply about Encounter: 'Because it has something to read in every issue.'" The Hungarian Review is better. It has several things to read in every issue. I'm very impressed."
George Jonas, novelist and journalist, Toronto


"Hungarian Reviewis a handsome production, and filled with fascinating material."
J.D. McClatchy, Editor, Yale Review, New Haven, USA

"I'm enjoying Hungarian Review immensely."

Fiona Kahn, Editor, City Secrets Books, New York

"Let me congratulate you on the launching of Hungarian Review. I hope it is a great success.".
James Steffen, Film and Media Librarian, Emory University, Atlanta, USA, December 2010

"I want to congratulate you on the publication of Hungarian Review. It is wonderful to have such a journal, and I shall tell all my friends about it."

David A. Hill, writer and poet, Budapest
"A
s before, I am finding
Hungarian review
very absorbing. It is a very informative, stimulating and well balanced publication."
Austin J. O'Connor, banker, Luxembourg

"As always I enjoy reading the Hungarian Review. The depth of its coverage puts many much wider circulation up-market intellectual magazines in West Europe to shame."
Ambassador John Gordon, Wallingford, Great Britain
"

I want to congratulate you on the publication. It is wonderful to have such a journal
."
David A. Hill, writer, journalist, Budapest
"

The journal is well thought out and of a high standard
."
János Betlen, anchorman, The Morning, Hungarian Television

"

The journal is beautiful!! I can't wait to read it and savor the quality."
David A. Cook, author of A History of Narrative Film