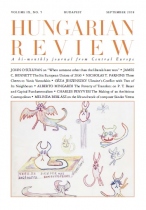 Subscription
Hungarian Review annual subscriptions for six issues, including postage (choose one):

Preview from Our November Issue
"The European Parliament has decided, Hungary has been referred to Council under Article 7 of the TEU and the left is celebrating. We can leave to one side the questions over the voting procedure, given that politically the weight of the voting is what counts. The joy unconfined on the left is understandable. After all, the left has long regarded Hungary as the seat of everything that it detests – it has devised a narrative that includes no rule of law, no judicial independence, no free media, no free anything really and presumably a nation of sheep who will vote for Fidesz because they are sheep. Quite some narrative. And those who contest it are automatically disregarded."
more
György Csóti (Online Edition)
"The Romanian secret service however has resorted to the methods of its predecessor, the infamous Securitate, by leaving no stone unturned in its pursuit of real or perceived reasons to strong-arm Hungarians who dare to stand up for their rights. Their aim is to generate fear, in order to intimidate those struggling for the respect of minority rights. In the case of István Beke and Zoltán Szőcs, they believed they had found proof justifying a possible reprisal, but after discovering that the evidence was too thin, began fabricating a Communist-style show trial, complete with doctored evidence."
more
Our Authors