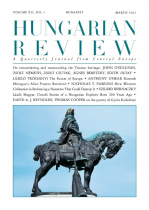 Subscription
Hungarian Review annual subscriptions for six issues, including postage (choose one):

25 March 2021
László Magyar – Untold Stories of a Hungarian Explorer Born Two Hundred Years Ago – Part I
Hungary was not a colonial power, so the 'overseas sciences' never really emerged in our country two centuries ago, with only a few notable researchers developing an interest and attachment to Africa, and occasionally also publishing their research, sporadically over the past few centuries.
When it comes to African relations and the exploration of the continent, to the best of our knowledge the first Hungarian to reach Africa was the Catholic clergyman János Lászai, who in 1483 spent several weeks in Cairo during a pilgrimage to the Holy Land. Although he himself left no record, a German travelling companion who was a member of the same religious order wrote a highly detailed account in a 1,500-page-long manuscript, revealing among other things that he encountered Hungarian-born mamluks (kidnapped as children, raised to be janissaries and later retrained as imperial soldiers), who still secretly declared themselves to be Christians. Others that we know of from the eighteenth century include the adventurer Maurice (Móric) Benyovszky (1746?–1786), who set out to colonize Madagascar but lost his life after coming into conflict with his former sponsor, the French government. Baron François de Tott (Ferenc Tóth, 1733–1793) also spent time in Egypt in the French diplomatic service, and his memoirs contain notes on life in Egypt at the time, its folk customs and monuments, which remain invaluable to this day. Besides them Ferenc Dombay (1758–1810), the consul of Joseph II in Morocco and one of the first Europeans to document Moroccan history, who had been educated in Maria Theresa's Oriental Academy in Vienna, left behind dozens of works written in German and Latin on the history, language, folklore, religion, philosophy, and numismatics of Persia, Turkey and Arabia.
Nevertheless, László Magyar (1818–1864) – who like many other European travellers of the eighteenth and nineteenth centuries, became a dedicated researcher after several years of prior adventuring – is regarded as Hungary's first true Africanist, self-taught ethnologist and fieldworker.
THE LIFE OF LÁSZLÓ MAGYAR



The historian and archivist László Krizsán writes that László Magyar was born out of wedlock on 13 November 1818 in the western Hungarian city of Szombathely, the result of a tryst between local maidservant Anna Horváth and Imre Magyar, a manorial bailiff from Csáktornya (today Čakovec, Croatia). In his early childhood, his mother having died shortly after giving birth, he was raised in extreme poverty by his maternal grandmother. Later his father, who eventually permitted him to use the family name, placed the boy with his own parents in Dunaföldvár. This was where Magyar commenced elementary school, and later attended the local Piarist secondary grammar school, although he completed his secondary education in Szabadka (today Subotica, Serbia), where his father had estates.
His father intended him to become a bailiff, and for a while employed him as an apprentice. However, presumably inspired by his childhood reading and a recruitment drive underway at the time, in 1841 he enrolled as a student at the Naval Academy in Fiume (today Rijeka, Croatia). After graduating from the academy, he served for a few years in various posts on numerous ships (including, once, on a sailing ship transporting slaves), calling at many of the contemporary seaports from South America to East Asia. In 1845, however, his service in the Argentinian Navy put him in serious jeopardy: as a crew member of the losing fleet in a battle, he was very nearly sentenced to death. It was in these years that he first showed willingness to explore as-yet-undiscovered ancient cultures. However, the Hungarian Academy of Sciences, although it appreciated his efforts, refused his request for funding to study the ancient ruins of Inca cities and the peoples of the Andes.
According to his own memoirs, he ended up shortly afterwards in Africa as a lieutenant commander on one of the schooners in the fleet of the Calabar ruler Trudodati Dalaber Almanor. It is now clear to us that whatever secrets are concealed behind this fictitious story (a ruler of that name never existed, neither in the Kingdom of Calabar nor anywhere else on the west coast of Africa) they are unlikely ever to be uncovered.
Nevertheless, through his service (whatever it may have been), Magyar raised enough capital to carry out his first voyage up the River Congo (1848), discovering many aspects of the riverside kingdoms and recording his experiences in his first journal excerpt to be published, after being sent back to Hungary, in the early 1850s.
At that time, having listened to much differing information and advice, Magyar joined a trading caravan headed for the Kingdom of Bié, a few hundred kilometres from the coast, where he settled and earned the affection of the local Ovimbundu tribal chief Kayaya Kayangula, who gifted him the hand in marriage of one of his daughters, the princess Ina Kullo Ozoro. This young lady, who had received a partially European upbringing by virtue of her descent, became Magyar's revered spouse. She bore him five children, two of whom survived according to Magyar's correspondence.
After this, Magyar embarked on numerous exploratory expeditions accompanied by the three hundred elephant hunters received as a dowry from his father-in-law. His wife joined him on the first trip, and Magyar intended his first son (Sah Kilembe Gonga), born during that journey, to become a high-ranking member, indeed the leader, of the tribal kingdom. His other journeys, the number of which is determined in various ways by different researchers, ranging between four and fourteen, provided an opportunity to observe geographical regions, geological phenomena, biological environments (flora and fauna), a variety of agricultural systems based on differing soil types and meteorological characteristics (e.g. the extent of water supply and precipitation, unique forms of plant cover, alternating forests and meadows, etc.), and the social structures of the peoples he visited.
Magyar's monograph, which reached Hungary in 1857 after many adventures, was published in Hungarian in 1859 under the curatorship of János Hunfalvy; what is more, his academic patron also translated and published it in German. (In 1857, Hunfalvy had already published three previously sent journal excerpts and a few letters.) Thus, besides the monograph, Magyar's complete written legacy included another diary excerpt (published only in German) and around sixty letters (including more than twenty short letters written in Portuguese, asking for help from his neighbours during illness, which turned up in the documentation of the orphans' court hearing after his death, courtesy of Éva Sebestyén).
Our knowledge of Magyar's fate and the last years of his life (between 1857 and 1864) is very incomplete. His father-in-law, who was probably deposed in 1852 due to his cruelty and rampant nepotism, was killed according to certain sources including Magyar, although other sources claim that he was still alive in 1856. In any event, for his own safety Magyar had to flee, abandoning his wife and family and returning to the coast with one of his sons where he tried to make a living, with his sixty or so remaining servants (slaves), by gathering Fucus, a seaweed that was in demand among British textile factories, as well as copal resin.
Magyar, who on the strength of his monograph, and especially at the urging of János Hunfalvy, Ferenc Toldy, and even the famous poet János Arany, was elected a member of the Hungarian Academy of Sciences in 1858, expressed relatively early a wish to return home and publish the next two volumes of his book. Unfortunately, neither his friends in Szabadka, nor Emperor Franz Joseph, the Hungarian authorities, the Academy or, despite his many promises, his father, assisted him in this. As a result, his planned homecomings repeatedly fell through.
Finally, he died alone and in deep poverty on 9 November 1864 a few days before his forty-sixth birthday, in Ponto do Cuio on the Angolan coast, in all likelihood (according to Hungarian medical and pharmaceutical experts) of malaria. His minimal estate was just sufficient to pay off his creditors. His son was first sent to be a metalworker's apprentice but was returned to his mother due to his alleged unruliness. In 1876 Anton E. Lux, an Austrian geography teacher (in today's Eisenstadt, then the Hungarian town of Kismarton) met the son, who was then in his twenties, while travelling in Angola. During fieldwork (in the years prior to the publication of her book in 1974) Judit Listowel also encountered presumed descendants of Magyar.
But what makes his death even more tragic is that after repeated enquiries by the Academy, many years after Magyar's death, the Portuguese authorities revealed that the seaside wooden hut serving as his last place of abode had since burned down. Magyar's documents, the books sent to him by the Academy and, even sadder, any other manuscripts and the two new volumes that he had mentioned several times and which are presumed to have existed, were lost in the flames.
Overall, however, there is no doubt that László Magyar is an important figure in the history of Hungarian scholarship in the nineteenth century: explorer of Africa, geographer, self-taught ethnologist and a sharp-eyed observer of traditional African societies of that age. He was an explorer of regions, where no European had gone before, and a discoverer of their peoples. David Livingstone only passed through one or two of Magyar's travel destinations. It was thirty years later that the Portuguese colonel Serpa Pinto explored the lands visited by Magyar. Accordingly, Magyar's accounts of numerous Central African regions and peoples contained information that was new to science.
LÁSZLÓ MAGYAR'S LEGACY
The truncated remnants of László Magyar's life's work, his written legacy, as we have already mentioned, essentially consist of a monograph published once (in 1859) in Hungarian and German (with lengthy excerpts later also published in French), six or seven travel journal excerpts sent home and published in various places, and around sixty letters that also contained ethnographic data. Of the latter, for us the first approximately forty missives written to his family members or contacts at the Academy are of particular importance.
From its very first chapter ('My Entertainment in Benguela') the monograph yields a trove of ethnographic data from the founding of the city through the attempts by groups that had lost some of their traditions to sell the virginity of their daughters, the effects of the hot climate on lifestyle, descriptions of the population's crop gardens and plantations, the agricultural and herding methods, mentality and clothing of the ethnic groups living in the environs of the city, to the practices of the 'Kimbandas' (diviners) who exploited the superstitions of the local population.
The second chapter describes his journey to Bié with a trading caravan, also relating many adventures and perceptive observations. For example, he writes at length about environmental features such as the landscape, its rivers and waterfalls, the flora, forests, and fields, deserts, rocky cliffs, animals – especially birds – and the unique patterns of agricultural farming, as well as the torments caused by the heat and lack of water. This was when Magyar received his African name: Mr Enganna Komo, where Komo originates from the Portuguese 'como', or 'how/what'. (He did not yet have a good command of the African languages, and constantly asked questions using this little word.) It is also at this point in the book that the caravan first encounters armed bandits (described by Magyar as 'Kippambala', although they were probably members of the Imbangala people). Magyar also describes a marimba performance (this African instrument is considered to be the ancestor of the xylophone) during which a song was improvised in his honour. Here, Magyar was also confronted with one of the main challenges faced by a large caravan of several hundred people, namely the difficulties of constantly obtaining sufficient foodstuffs. In the meantime, our traveller earned such respect that he was elected chief of the caravan.
The third and fourth chapters contain, among other things, descriptions of the ethnic groups (nations, tribal chieftainships) encountered on the several-hundred-kilometre journey. Magyar once again richly describes the geographical environment. He includes a true story with a dramatic ending that vividly invokes the world of caravan trading, complete with swindles and the life-threatening tensions of involuntary meetings with superstitious local tribal groups, and also describes the perils of wild buffalo hunting. Later, we read about the conflict that arose with the first kingdom (Kiakka) on their route, and the local (rural) population is also described. Magyar tells of a local legal proceeding that gives an insight into the traditional African laws of precedent combined with trial by ordeal, where manipulation by the Kimbanda (diviner) also comes into play. This is when we catch a glimpse of Donna Izabel, born in Africa but raised in Brazil, who we learn will rescue Magyar years later during his escape from Bié (although, sadly, our traveller did not include a description of this event, either then or later). This is followed by a recollection of his cordial meeting with the prince of Huambo province.
The remaining chapters five to ten, which form the core of the book, contain a description of Bié (pronounced bee-ey) and its people (described by Magyar as Kimbunda, but today known as Ovimbundu). Magyar describes his journey, his arrival and settlement in Bié, which involved the construction of a large house and establishment of a household, as well as an unusual event in his life, which has since come to be painted in a romantic light: his marriage with the daughter of the ruler of the local tribal kingdom, Kayaya Kayangula. (Antal Havas's epic poem of the nineteenth century, and most recently a poem by the Angolan poet Anna Paula Tavares draw for us a touching picture of the love between Princess Ozoro and Magyar.)
In these chapters, Magyar provides invaluable data from what is considered a very early period of this tribal kingdom, in an era that was still largely free of Portuguese colonialism. It was only thirty years later that the Portuguese colonel Serpa Pinto, who overshadowed Magyar's findings in international literature, visited the locations of Magyar's fieldwork; and although his lengthy book partially corroborates the data of our compatriot, he largely describes circumstances that had already changed since then.
One of the most exciting new pieces of information received from Magyar is the origin story of the Ovimbundu, which is far more extensive and detailed than Portuguese descriptions found in other manuscripts, and which reveals that the Imbangala (or Jaga), who emerged in the history of Central Africa around 1568– 1570, when they attacked and looted the capital city of the Kingdom of Kongo, established after Portuguese colonization, had been incorporated into the origin myth of this ethnic group. Around this time they are regarded as a gang of youths keen to fight and plunder; then some of them drifted to Queen Nzinga's realm of Matamba (1631–1744) and another group founded one of the longest-lasting African tribal kingdoms, Kassanje, and they may have established many of the Mbundu (Ovimbundu) chieftainships. What is more, in order to neutralize them the Portuguese organized other groups into auxiliary troops tasked with defending the Kingdom of Kongo. Many Central African peoples, including the Ovimbundu, consider them to be their ancestors, with a presence that radiates strength and power through memories that are kept alive to this day.
Magyar describes a phenomenon that continues to raise many question marks today, however, when he describes the so-called pacasero (essentially: wild buffalo hunter) association, a secret society that attempted to curb the activities of murdering, looting, and plundering tribal princedoms.
Magyar's interpretive references and subheadings give an overall picture of the rest of the work: the somas or sobas and their election and anointment (death and succession of the king); Kokaimba-dyipunda (the king's first successful pillaging raid); Ouri-congo (human sacrifices at the inauguration of a new king); political and other institutions; money substitutes; trade; agriculture; poultry farming; the people's lifestyle. And of course, there are also occasional mentions of cannibalism, polygamy, the stratification of society or the weapons used. But Magyar summarizes information that is academically useful to this day in the lengthy chapters of his book: on taxation, legal customs, and traditional justice, the local religion and beliefs (although the concept of a divine creator exists, superstition is the defining factor in their everyday lives), the Ovimbundu's material and intellectual culture, their concept of time, diseases and cures, as well as funeral rituals. And of course, many chapters offer insights into the local slavery practices (the special status of house or patriarchal slaves; the prisoners taken during their wars formed the basis for cannibalism, while in more recent times they were traded with the Whites).
The ninth chapter of the book describes sixteen other Ovimbundu provinces (essentially smaller princedoms, among which perhaps only Bailundo was on a par with Bié). This data was supplemented with information about the navigability of the rivers of the country (much of today's Angola) and the potential for its peoples to become civilized. Finally, he appends a tenth chapter to the book, which is given over to the Kimbundu (see: Ovimbundu) language.
The first travelogue, mentioned earlier, describes his voyage up the River Congo; that is, his first journey into the interior of Africa, and even this early work contains much data of ethnographic and historical importance. Firstly, as Csaba Ecsedi also highlights in his paper, Magyar wrote summaries of varying length on several of the former princedoms (tribal kingdoms) that later ceased to exist, so that today we only have Magyar's account of them. Secondly, this part of the journal reveals the slave market that had fled the British warships, leaving the coast for the interior along the River Congo, relocating to Boma, one of the last bastions of this waning, inhuman activity. Magyar's reporting (how slaves were caught and purchased, the prices of goods and slaves and the fate of unwanted slaves) remains an important source of data on this subject today.
Another excerpt (the second travelogue) bears the same date as this journal excerpt, but also includes the arrival at Bié, meaning it was made later. This provides information on Benguela and Bié that partially overlaps with the monograph. It then briefly summarizes Magyar's first exploratory journey from Bié, and at the end of the text he also inserts the words to songs in two languages (one, again, was improvised in his honour).
The next journal excerpt describes his 1852 journey to Camba and Cuanhama. Again, Gusztáv Thirring's remarks on Magyar's keen powers of observation hold true. Besides this, the transcription of his conversation with Cuanhama's ruler, Haimbiri, invoking for us the traditional diplomatic mode of speech, is especially informative.
Magyar's fourth journal excerpt is essentially a brief outline of his experiences in the provinces lying between the Kunene and Lubango rivers. Although Magyar castigates the African people for their wildness, cruelty, and superstition, this time he writes that the subjects of Prince Hambo 'are generally tall with a fine build, and display an outwardly grim appearance, but nevertheless they converse with strangers'. Again, we receive a detailed overview of the agricultural methods and crops, and the local hydrography.
Two versions of the fifth journal excerpt are known to us. It takes us into the countries known as Moluva or Moropuu and Lobál in Hungarian usage (today's name for the latter is Lobale or Lovale). Besides the Hungarian version of this account, there is also a German one, which for reasons unknown differs from the Hungarian version; what is more, it contains a glossary that János Hunfalvy left out of the Hungarian edition.
The last known diary excerpt was essentially Magyar's inaugural lecture as a corresponding member of the Academy of Sciences, giving a geographical overview of the South African provinces of Lungo and Kapota. It was read out in his absence by János Hunfalvy at the Academy's convention held on 20 October 1862. In it, Magyar summarizes his geographical, hydrographical, and topological observations made during a new field study.
Overall therefore, based on Magyar's surviving writings, we can safely say that he has contributed knowledge that remains valuable to this day in numerous academic disciplines, including general, material, intellectual and social ethnography or ethnology, the study of traditional agriculture, folklore, ethnomusicology, ethnopsychology, linguistics and dialectology, geography, pre-colonial history, the study of the slave trade, demographics, theology and even traditional healing (medicinal herbs) and geology (see the latest findings of professor emeritus Miklós Szónoky relating to Magyar's description of Central African rock formations). And, because Magyar visited the sites that he selected before everyone else, these early data are invaluable assets for scholars of general African cultural history.
Translation by Daniel Nashaat
Note:
The details of the literature sources mentioned in the book can be found in the following works by the author of this essay:
BIERNACZKY, Szilárd
2018 'Magyar László szellemi hagyatékáról. Az elvégzett és az el nem végzett kutatási feladatokról – születése 200. évfordulóján' (On the Intellectual Legacy of László Magyar. Research Tasks Completed and To Be Completed – On the 200th Anniversary of His Birth), Vasi Szemle 74/5, 523–550.
2019 'Magyar László megismerésének útja itthon és külföldön' (The Reception of László Magyar at Home and Abroad), Polgári Szemle 16/4–6, 214–29.
To be continued…